It took just one bad swing on Sunday for Wilco Nienaber to miss out on an opportunity to grab his maiden professional title as he finished just one shot away from winning the European Tour and Sunshine Tour co-sanctioned Joburg Open at Randpark Golf Club.
He had a three-stroke lead over Denmark's Joachim B Hansen at the turn, and he hadn't dropped a shot and hadn't looked like dropping one. But Hansen made birdies on 10, 12 and 14 while Nienaber spurned opportunities on the 12th and 14th when his prodigious length off the tee should have given him the opportunity to stretch well clear.
With one shot between them, the 20-year-old rookie Nienaber started to visibly tighten up, and when he stepped onto the 17th tee, the one place he didn't need to hit his tee shot on the long par-three was left, where the pin was placed and water lurked. That's exactly where he hit it. He was lucky that the ball wasn't wet, but he was lucky to be able to make bogey there and cede the lead to the Dane.
That deflated Nienaber completely, and his tee shot on 18 ended up in the fairway bunker – again, the one place he didn't want to be. Hansen, in the meantime, did exactly what he did throughout the day, and made sure he didn't drop a shot.
"It was tough with Wilco hitting it so long and so straight," said Hansen. "I knew I was just going have to do my own thing, and do what I did all week, really.
"Even when he hit that tee shot on 17, and the ball stayed out of the water, I told my caddie we had to believe he was going to hole his second and I was going to have to hole my birdie putt to stay competing with him.
"And my putting was good all week. I don't think I missed anything inside six feet, and I holed some long ones too to stay in touch."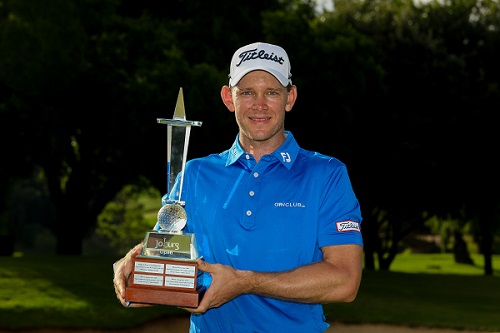 In the end, he had a six-footer for par on the 18th for the win, and he made no mistake as he took his maiden European Tour title. "I'm quite emotional," he said, as he battled back the tears. "This is what we work for."
Ultimately, Hansen's closing four-under 67 trumped Nienaber's 70 as the Swede finished on 19-under for the tournament and Nienaber on 17-under.
A shot further back was Shaun Norris, who always seems to play well at Randpark, and Brandon Stone came up just short of his expressed desire to win the tournament to add to his SA Open and Alfred Dunhill Championship trophies as he shared fourth with England's Steve Surry and Canada's Aaron Cockerill.
For Niebaber, he will have to quickly lick his psychic wounds and start doing what he did for 70 holes at Randpark – this time, on the tough Leopard Creek and the Gary Player Country Club at Sun City if he is to win his maiden title on home soil.
But win he will. Soon.